Improve Your Smile With Dental Crowns & Bridges
You can keep your teeth healthy with regular brushing, flossing and checkups. However, if over time one or more of your teeth become damaged due to decay, cracks or trauma, Southridge Dental can provide you with dental crowns or a dental bridge to fix existing issues and prevent new ones from surfacing in the future. Both dental crowns and dental bridges fit over your affected tooth or teeth, and serve to restore the size and shape of your tooth.  
A dental crown is a tooth-shaped "cap" that is placed over a tooth — to cover the tooth to restore its shape and size, strength, and improve its appearance. The crowns, when cemented into place, fully encase the entire visible portion of a tooth that lies at and above the gum line.
Dental bridges literally "bridge the gap" created by one or more missing teeth. A bridge is made up of two or more crowns for the teeth on either side of the gap — these two or more anchoring teeth are called abutment teeth — and a false tooth/teeth in between.
After you lose a tooth, your dentist may suggest that you get a bridge. A bridge can keep your other teeth from moving out of place, not to mention the improvement in cosmetic appearance.
Once a bridge is placed, it works just like your natural teeth.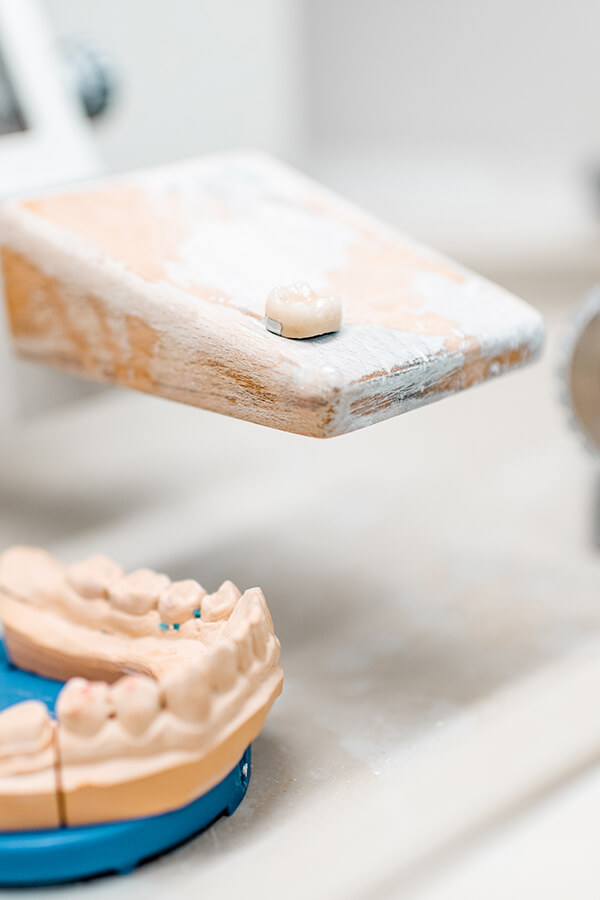 Why choose a dental crown or bridge?
There are many reasons to choose a crown or bridge, and many reasons we will recommend these procedures to our patients. Following are a few:
To protect a weak tooth (for instance, from decay) from breaking or to hold together parts of a cracked tooth
To restore an already broken tooth or a tooth that has been severely worn down
To cover and support a tooth with a large filling when there isn't a lot of tooth left
To hold a dental bridge in place
To cover misshaped or severely discolored teeth
To cover a dental implant
To make a cosmetic modification
Dental crowns and dental bridges serve a wonderful purpose in your overall dental health, by providing a replacement for damaged teeth to ensure normal eating and chewing activities, to protect adjacent teeth, and to help give you the beautiful smile we all long to have.